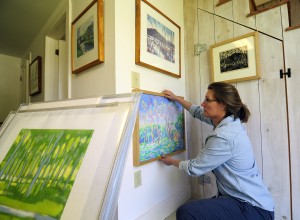 By Mary Gow
Arts Correspondent
Alice Cheney had an eye to the light, space, ambiance, and storage she needed to do her encaustic painting when she designed and built her studio on the hillside behind her Warren Village home back in 1998.
This delightful studio serves her well — sunlight streams through the ample windows. Beeswax, paints, brushes, scrapers, wooden panels — the well-used tools of her creative work are all in place, on hand for the multiple stages of her paintings. Completed works, including luminous landscapes, hang on the walls.

This weekend, May 24-25, Cheney is among the nearly 250 artists and craftspeople welcoming the public into their work and exhibit spaces in the 22nd annual Vermont Crafts Council's Spring Open Studio Weekend. On both Saturday and Sunday, in every corner of the state, this celebration of the creative process offers an inside look at the work places of Vermont's visual artists.
Along with the diversity of Vermont artists, there is also an amazing diversity of media.
"I have a gazillion zippers here — bins and bins of zippers," said Stacie Mincher, who creates zipper art in her studio in her home, a 1923 Craftsman-style bungalow in Rutland.
"On Open Studio Weekend, instead of gathering people in one place to see art, we let you go to the locations and see and meet the artists," said Martha Fitch, Vermont Crafts Council executive director who has coordinated this annual event since its inception.
"There's a lot of information in an artist's studio," said Fitch. "You get the context in which an artist lives as you going through the landscape. You see the artists' creative hands in their studios. And you see the specialized tools and environment that artists need for the production of their work."
With detailed information in the Open Studio Weekend brochure and website, it is easy to visit artists in your neighborhood or across the state. The maps and artist listings are helpful and clear. Many visitors plan routes with multiple studio visits. When the studio doors open on Saturday morning, the experiences are as individual as the artists themselves.
"I think people are curious when they know that you are an artist. Open Studio Weekend is a great way to say, 'This is what I do,'" said Cheney. "I love what I do, and it's really nice to have people come to visit."
At Cheney's studio, visitors meet and learn from two artists — Cheney and painter and printmaker Clare Adams of West Townshend. Cheney and Adams both studied at the School of the Museum of Fine Arts, Boston, but at different times. For both, Japanese artist Kaji Aso was an influence and mentor. While both Cheney and Adams are Vermont artists, they met in Tokyo — through their teacher, Aso.
This weekend, Cheney demonstrates steps in her process of encaustic painting — painting with wax.
"I got into encaustic because I love the luminosity. It is very similar to watercolor painting and it preserves the pigment," Cheney explained.
"It's quite technical," she said, noting that her works often have three or four layers of wax and paint. "I make my own wax and my own panels."
Cheney brings her experience in watercolor and woodcarving to her work in encaustic. The impermanence of watercolor always troubled her. When she discovered encaustic in the early 1990s, it resonated. Her current work explores light and wind in landscapes.
Adams is inspired by Eastern and Western classical landscape painting works in oil paints as well as prints. She is demonstrating her printmaking at Cheney's studio. Among her recent works are one-of-a-kind monotypes, prints with multiple layers of color. Adams is opening a gallery, studio, and press in Saxtons River this summer.
In Mincher's Rutland studio, visitors see some of the steps she follows in transforming zippers into art. She uses mostly old zippers — the kind with the metal teeth and colored enamel on one side. In her hands, they take on new shapes and looks.
"I've been an artist all my life," said Mincher, who explains that she got an early start making and selling things with help from her mother, a home economist who recently retired from the UVM Extension Service.
Mincher graduated from Castleton State College in 2000 with an art degree. Finding a dearth of jobs for artists, she started selling art from recycled materials at farmers markets.
About 10 years ago, while at a conference, her mother bought a zipper heart pin and brought it home. She figured out how to make similar pieces. In short order, Stacie Mincher was hooked.
"I just went crazy and made it my own. Hearts were first and are still the most popular. Then pins, pendants, barrettes, earrings zipper pulls followed and larger pieces mirrors, clocks, picture frames," Mincher said, noting that she is honored that one of her zipper mirrors is currently on exhibit in Senator Leahy's Washington, D.C. office.
With determination, enthusiasm, and appreciation for people who have given her countless bags and boxes of old zippers, Mincher has built her career. She sells her zipper art at about 30 craft fairs each year and online.
"I love what I do and I wouldn't change it for the world," she said.
Vermont Crafts Council
The Vermont Crafts Council presents the 22nd Spring Open Studio Weekend Saturday and Sunday, May 24 and 25. The Vermont Open Studio Guide, a map with directions to all the artist studios, is available throughout the state at Tourist Information Centers, galleries and studios, as well as online at www.vermontcrafts.com. For information, call 802-223-3380. Alice Cheney and Clare Adams can be found at 19 Fuller Hill in Warren; call 802-496-6773. Stacie Mincher Designs is located at 7 Kingsley Court, Rutland; call 802-989-6655.