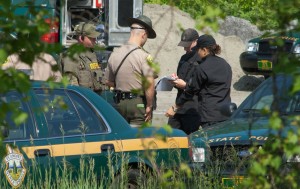 By David Delcore
Staff Writer
WASHINGTON — A summer scene befitting a Norman Rockwell portrait was spoiled Monday morning when more than a dozen police cruisers, an armored vehicle and the big box truck that houses Vermont's equivalent of a S.W.A.T. team set up shop in Washington to take what proved to be one unarmed man into custody.
The mission, which featured what Sgt. Mike Kamerling described as a "just in case" response, was a success and Alfred Perreault, 68, was arrested without incident less than 48 hours after he allegedly assaulted his wife, Sara, at their Route 110 home over the weekend.
The Saturday evening altercation triggered a bizarre chain of events that, Kamerling says, began when Sara Perreault was transported to Central Vermont Medical Center in Berlin where she was treated for injuries allegedly inflicted by her husband and ended shortly after 10:30 a.m. Monday when specially trained members of the state police "Tactical Support Unit" entered their home and arrested him.
Alfred Perreault was home alone at the time, though Kamerling says that wasn't the case when police responded to the reported domestic dispute shortly before 9 p.m. Saturday.
According to Kamerling, Alfred Perreault left the home before police arrived on Saturday, but his car was spotted back in the driveway on Sunday.
Neighbors say police staked out the Perreaults' home, which was locked, looking for some sign of activity throughout the day on Sunday and Kamerling confirmed they obtained a search warrant on Monday after repeated attempts to contact Alfred Perreault by telephone had failed.
According to Kamerling several calls – some placed by family members and others by authorities – went unanswered on Sunday and again on Monday.
For the complete story, see Tuesday's Times Argus.