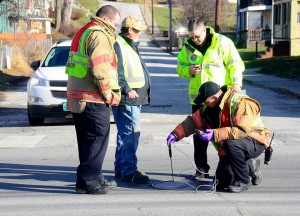 Jeb Wallace-Brodeur / Staff Photo
Barre City firefighter Bill Waite lowers a sensor into a manhole on North Main Street in Barre on Wednesday.
BARRE - Emergency personnel have traced the source of persistent neighborhood complaints involving petroleum-like odors to a North Main Street convenience store.
According to City Manager Steve Mackenzie, initial estimates suggest some 3,000 gallons of gasoline may have leaked from underground tanks at North End Deli Mart over an undefined period of time. That leak, he said could account for odors detected in the basements of several nearby homes over the past two weeks.
Members of the city's fire and public works department were on the scene this afternoon, as were representatives of the state Agency of Natural Resources and the state Department of Health.
According to Mackenzie, officials were attempting to determine the extent of the contamination and firefighters were venting the sanitary sewer system in the area. He said it did not appear that the gasoline made its way into the city's storm sewer, which would have funneled the petroleum product into the nearby Stevens Branch of the Winooski River.
A press conference is scheduled at 2 p.m. at the public safety building in Barre.